Choice of Games has released their latest game, Choice of Alexandria. This multiple-choice, interactive fiction novella is now available on Steam, iOS and Android.
Choice of Alexandria is an interactive novella written by Kevin Gold, who is also the author of Choice of Robots. The game is entirely text-based, without graphics or sound-effects. Players can direct the story in any number of ways based on their choices throughout the story.
The Story
Set n the year 245 BCE, you have been invited to Alexandria to tutor Prince Ptolemy IV. The real Ptolemy IV brough the empire to ruin under the sway of his evil advisor, Sosibius, but you have the power to create a different path by taking Ptolemy IV under your tutelage. But, you could always choose to focus on something else instead. Disregarding your responsibilities may mean that you could accomplish great scientific feats thousands of years ahead of schedule with the help of Archimedes and Euclid. Discover the steam engine, the germ theory of diseases, and even robotic automata. Choose your path… will you deplete libraries of other cities to enrich your own? Will you protect the legacy of an empire, or achieve scientific greatness? Will Ptolemy IV grow up self-indulgent and inconsiderate, or will be be wise and just? Can you win over the pirate queen Nefertari or will you be ransomed?
Adventures Ahead
Play as either a brilliant inventor, a gifted speaker, or a life-saving doctor
Make great discoveries while protecting the prince from being manipulated
Save famed mathematicians Archimedes and Euclid from untimely deaths
Based on the real life of Eratosthenes, ancient genius who calculated the size of the Earth
Save the Great Library and invent the steam engine two thousand years early!
For more information, visit: https://www.choiceofgames.com/alexandria/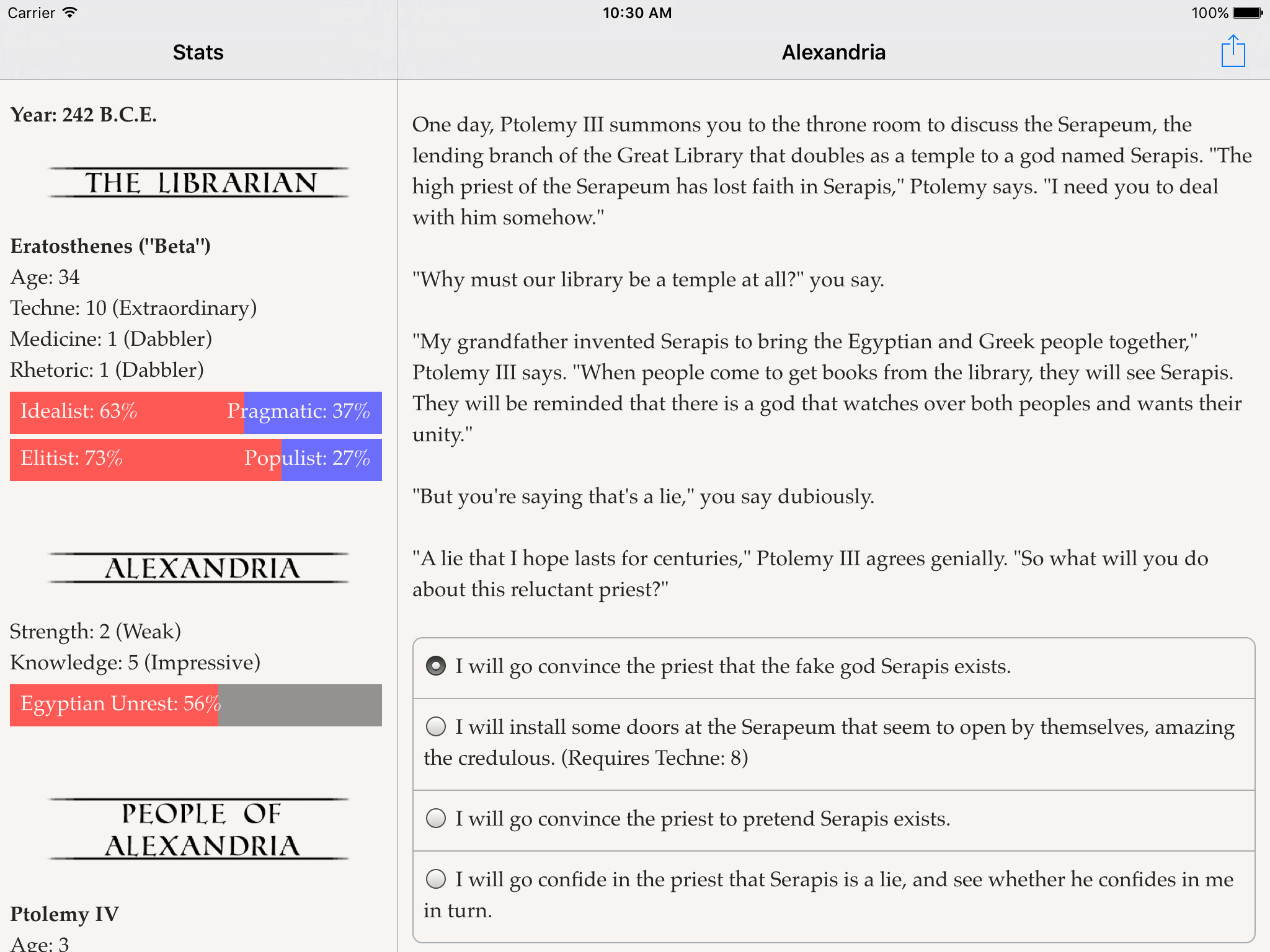 Source: Games Press
Like what you just read? Please help us produce quality content by supporting us on Patreon.
Director of Game News
at
Rising Shark
When she isn't being an avid environmentalist, working or finishing school, she enjoys learning about the hottest game news scoops and sharing them with the world. She also helps ensure the site runs smoothly and meets the standard SEO stuff for Google.
Latest posts by Kayla Hekimian-Williams (see all)